THE BRENCH BREVIARY 2022 is the product of several years of liturgical tinkering, experimentation, subsequent conformity to the new Book of Common Prayer (2019), interest in Benedictine spirituality, attempts to organize private study and devotion, and a pastoral attention to the spiritual and catechetical needs of others.  It is my strong contention that the average Christian today desperately needs two things: a robust life of ordered prayer and Scripture-reading, and the development of an authentically Christian instruction and spirituality.  The former is amply supplied in the Book of Common Prayer, if any dare to "take up and read."  The latter can at least be begun with a book such as this.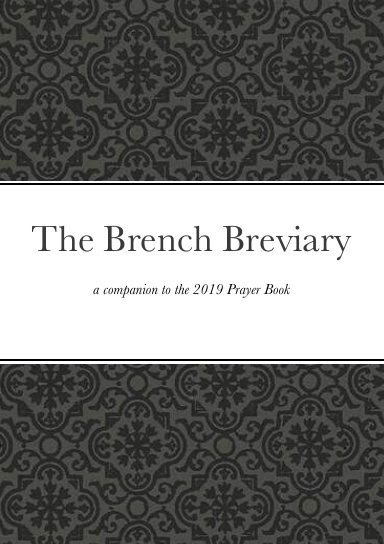 Honestly, if you poke around this blog site, especially the Customary pages, you'll find most of the special additional material that makes this book a unique companion to the Book of Common Prayer. But what you get for your money, with this real-life physical book, is clear, neat, organized, and purposeful access to some of the best resources that I've produced and put online here – plus a couple things I haven't!
As for the name, this is the Brench Breviary because it reflects the particular orders, ideals, or devotional practices that I (Fr. Brench) have aspired to, in part or in whole. There may someday be a Saint Aelfric Breviary, but the biggest issue there is how much Prayer Book material would be re-printed. It it more likely, economical, and in line with my educational intentions that a set of bookmarks or leaflets outlining this Customary's implementation of the 2019 Prayer Book. And don't worry, the 2022 doesn't mean I'm going to replace this every year. Like the Prayer Book, this is a book that is intended to be supplemented, edited, and updated on a gentle and rare basis.
The Offices and orders in this book are presented in one idealized form, but individuals are encouraged to make these their own according to need and ability.  A maximalist use of this Breviary would look something like this:
For those looking to develop a prayer life with children, the Children's Lectionary attached to the Family Prayer In the Morning can be used with any of the four "Family Prayer" offices in the Prayer Book.
For those looking to develop their grounding in historic Christianity, the Catechetical Lectionary and the reading of the Homilies can be attached to the Daily Offices themselves.
For those concerned about personal holiness, desiring to take up arms in the work of spiritual warfare, the Personal Devotions at the start and end of the day (which are drawn from the American Prayer Book of 1928) contain valuable prayers to that end, especially with the Examinations of Conscience added therein.
The Catechetical Lectionary, it must be noted, includes two compilations of writings that are not fully listed in this Breviary.  The first is Advent With Anglican Poetry, also published by Brench Publications. The second is Lent Readings from The Fathers, published by Oxford, John Henry Parker, in 1852. A reprint of the latter should be forthcoming within the next couple years.
It is my prayer that, however you choose to use this, with family members or a small group or alone, it may be a blessing that enriches your walk with God, your engagement with his Word, and your love for his Church.